Dubai based Pasiv Financial has become the first fintech in the GCC to launch roundup, spare change investing to the public. Available to UAE residents, this feature allows you to add a card from any major bank in the UAE and set a roundup amount that each transaction on the card gets rounded up to. The difference is then invested in the user's portfolio of stocks & ETFs in Pasiv.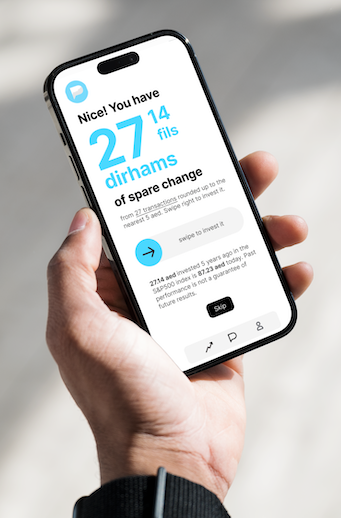 Pasiv participated in the prestigious GITEX Fintech Surge event held at Dubai Harbor in the United Arab Emirates. This event showcased groundbreaking fintech innovations and welcomed 500+ startups. Pasiv proudly presented its groundbreaking micro investing technology, unveiling a new era in accessible, inclusive and automated investment.
"Spare change investing is a double down on our commitment to make passive investing simpler and more accessible to ordinary people. This feature means you can seamlessly build wealth without changing your behavior or financial habits."

Vinay Gokaldas - Founder & CEO

A Dynamic Showcase of Fintech Brilliance
GITEX Fintech Surge, held in the vibrant city of Dubai, brought together some of the most exciting and innovative fintech startups from across the globe. Nestled in Hall #8, Pasiv's booth stood alongside fellow fintech luminaries like Tmam, Tiger Pay, Ramses, Cashew, and the Fintech Tuesdays community. The atmosphere buzzed with excitement and promise, setting the stage for Pasiv's groundbreaking reveal.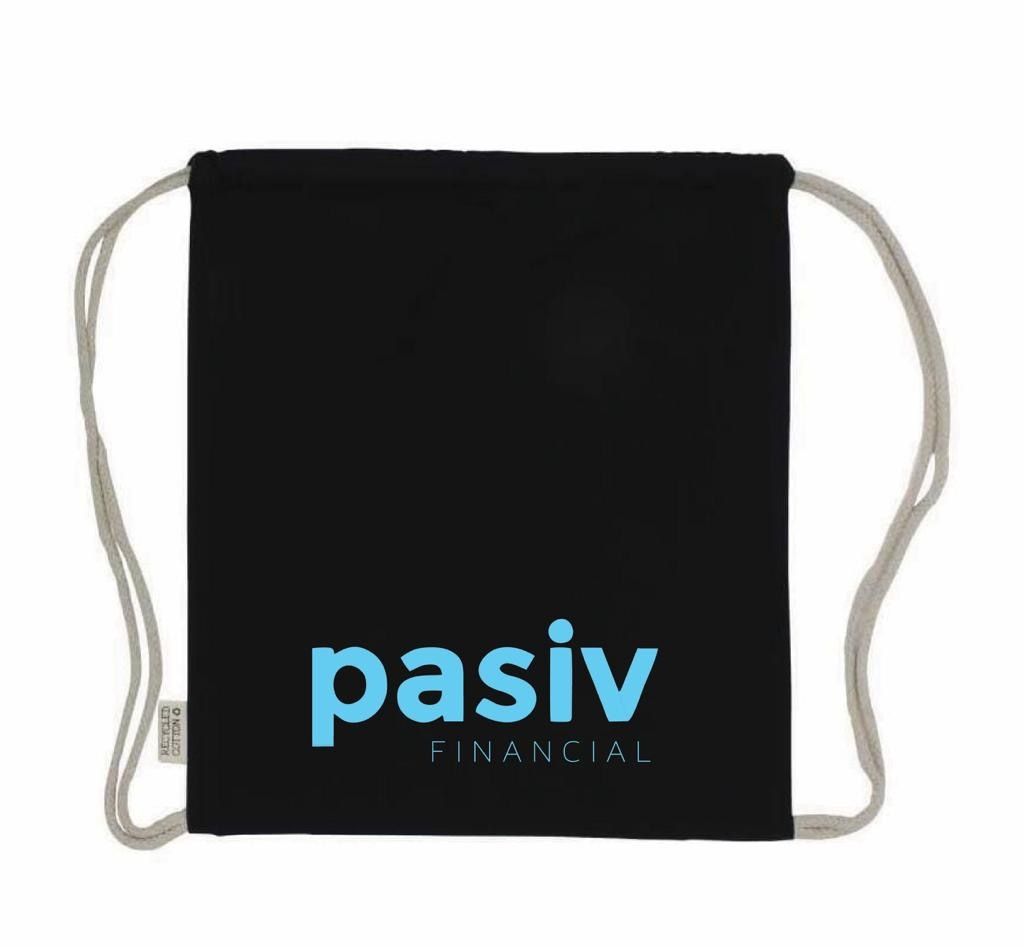 A Regional First
At the heart of Pasiv's GITEX debut was the revelation of the UAE's first-ever spare change investing technology. Powered by Open Banking and compatible with major banks across the UAE, this innovation enables effortless roundups and daily micro-investing. The company offers a free account with access to 5 ETFs, and a premium account with access to all US Stock & ETFs. The feature is made possible by affiliation with innovative US broker/dealer ChoiceTrade with whom Pasiv is affiliated. Visitors to the Pasiv booth experienced a demonstration of how spare change can pave the way to a secure financial future.

Pasiv at Center Stage
Situated centrally in Hall #8, the Pasiv booth became a focal point of interest throughout the four-day event. Fintech enthusiasts, consumers, and regional investors alike flocked to our booth, eager to discover more about Pasiv's visionary technology and our unique approach to financial wellness.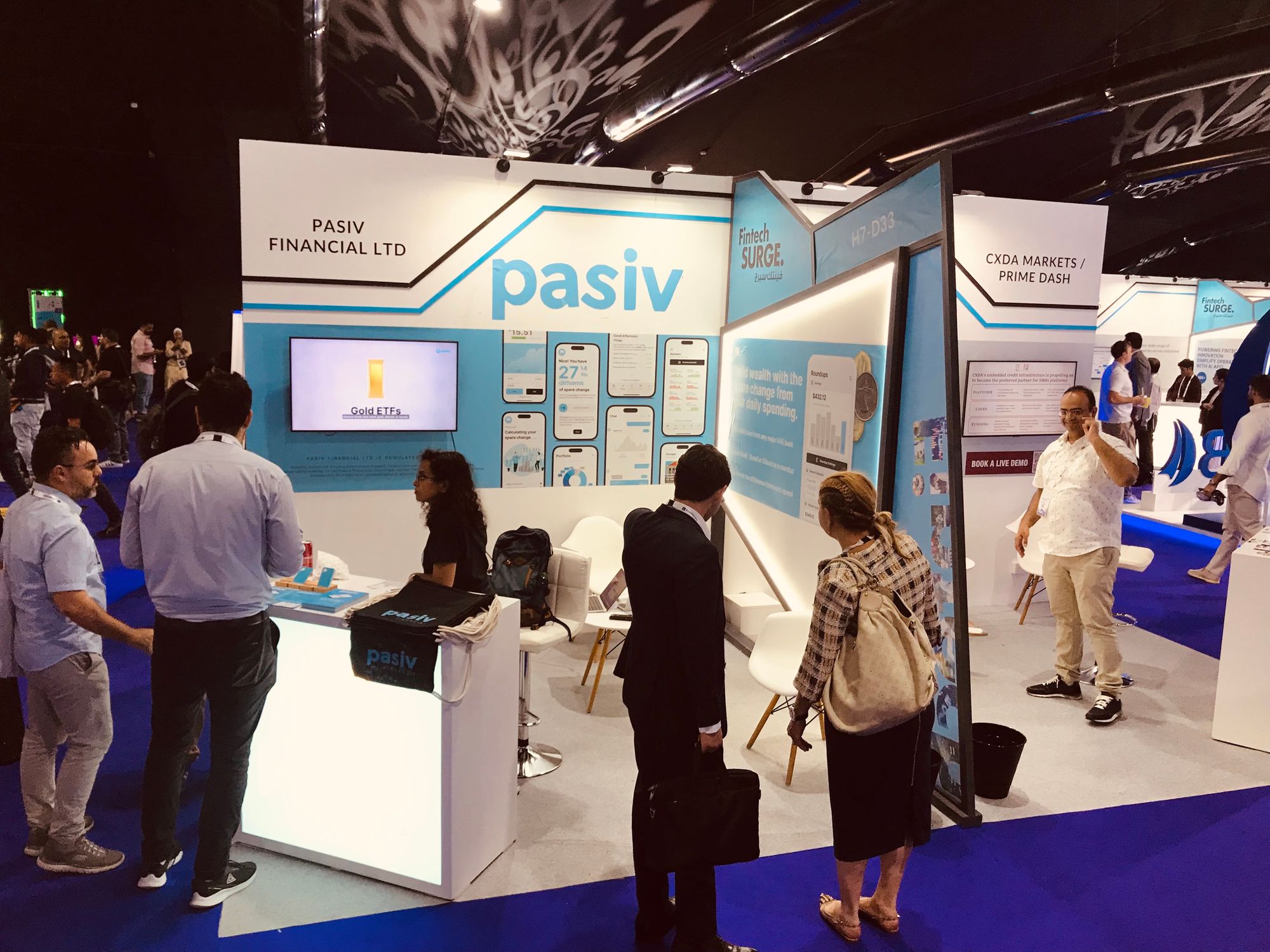 Presentation on "The Power of Spare Change Investing"
Founder Vinay G took to the SME Elevate Stage on Day 1, captivating the audience with his enlightening presentation, "The Power of Spare Change Investing." With passion and expertise, Vinay illuminated the audience on the transformative potential of micro-investing, dollar-cost averaging, passive investing, and the magic of compounding. These four forces, he argued, hold the key to building financial security and securing a comfortable retirement, making them accessible to everyone, no matter their financial standing.
A Team Effort
Pasiv's presence at GITEX Fintech Surge was a resounding success, marking a pivotal moment in the world of financial technology. Our spare change investing technology promises to democratize investment, making it an everyday practice for individuals across the UAE. We are excited to embark on this journey, empowering people to take control of their financial futures, one spare penny at a time.

Stay tuned for more updates as Pasiv continues to redefine the landscape of financial wellness and accessibility. Together, we're making financial security a reality for all.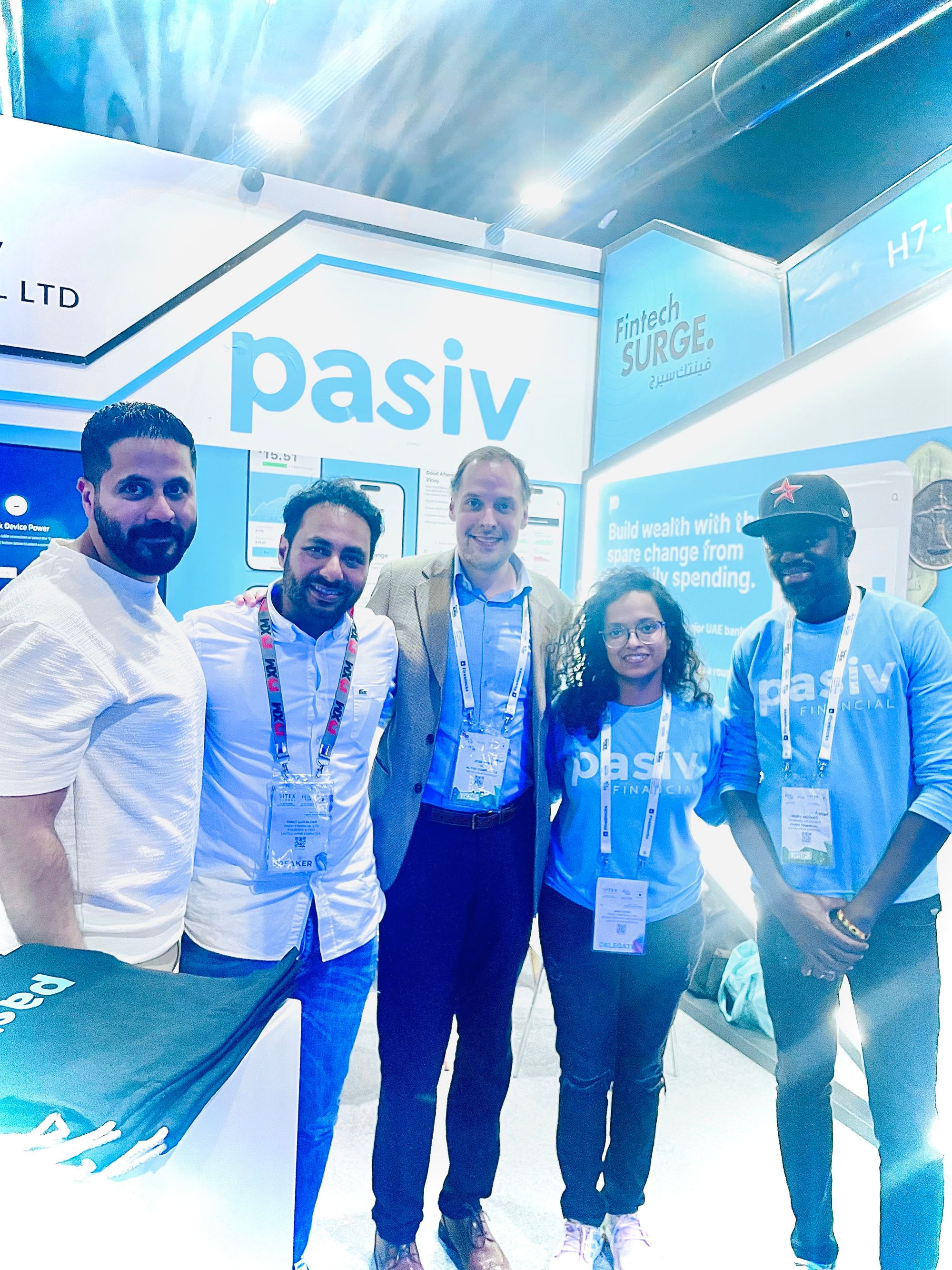 Pasiv Financial Ltd is regulated by the DFSA. US securities & products by ChoiceTrade. Investing involves risk including potential loss of capital. Consider your risks and objectives carefully before investing.