You're receiving this email because you signed up to be a Pasiv beta tester, or you subscribed to our blog. Either way - we're thrilled to announce that we've launched our inaugural "innovation testing build" version 1.1 on the Apple iOS app store, and it's now available for download.
The first 25 users on Pasiv's waitlist will be receiving invitations to open a real account over the next few weeks, but everyone is welcome to download and test it out with a free 2-week virtual money demo account. Go ahead and give it a spin!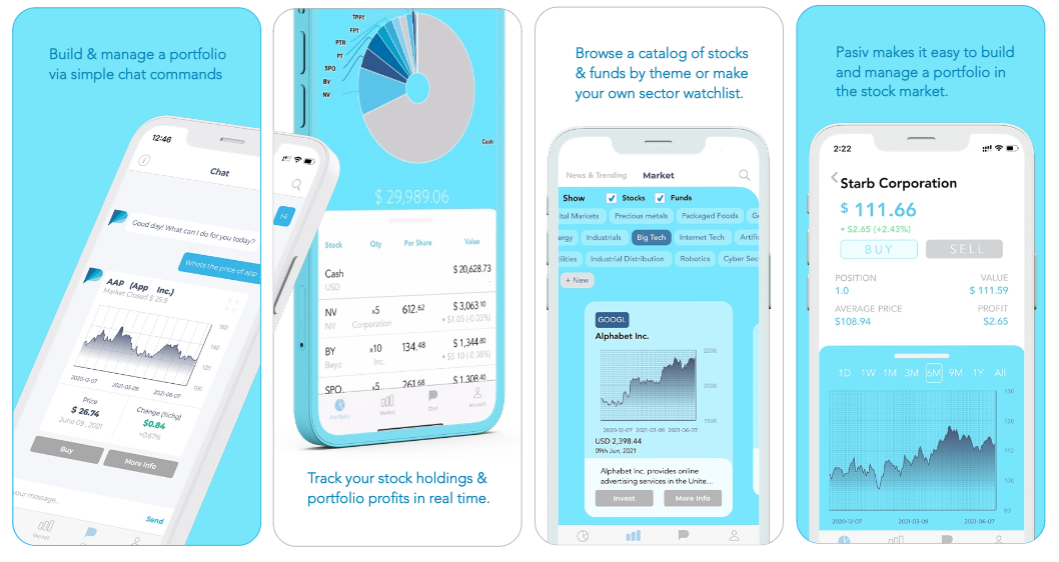 In retrospect we have been in a time warp over the last year, methodically obtaining all the necessary regulatory approvals in the UAE to offer financial services. At any given time over the last year it has felt like we were 2 weeks away from the app store launch. So you can imagine how it felt when we got the email below!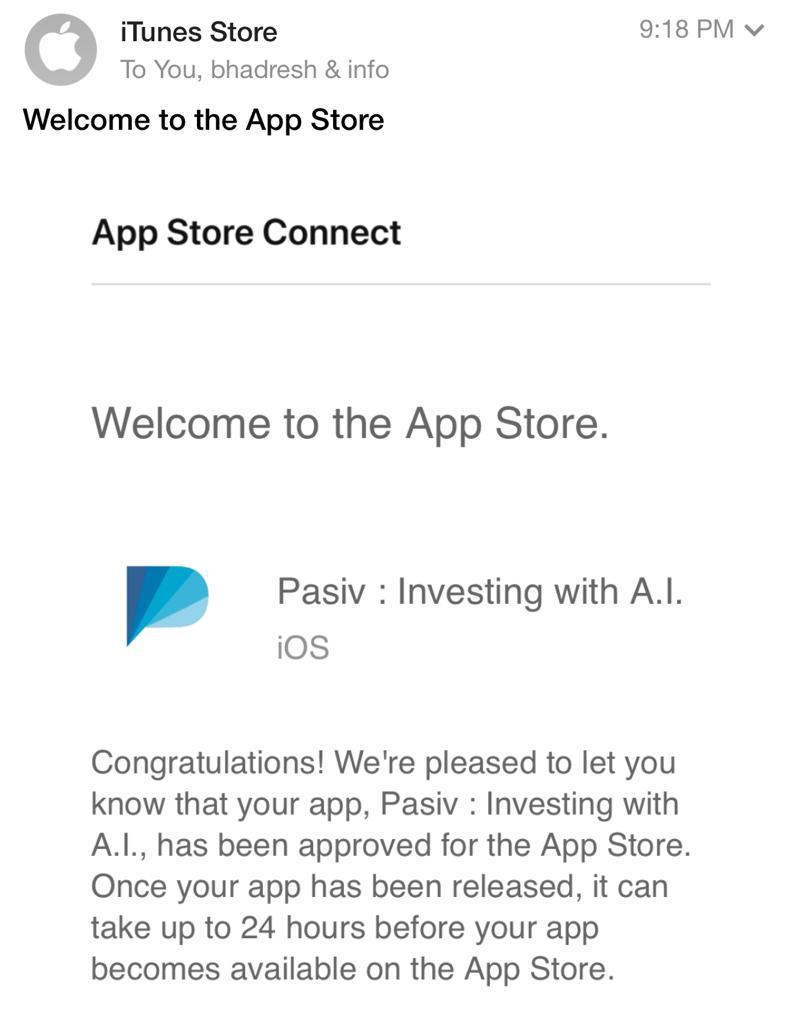 We finally made it onto the app store, after months of de-bugging, and after years of hard work. A big thanks to our entire team of developers, graphic artists, and product designers. No one said innovation would be easy, and we're glad you've been part of our family on this journey.
Our inaugural "Innovation Testing" build features basic order execution, a market catalogue to browse stocks and find the latest news articles on stocks in your portfolio.
2 WEEK FREE TRIAL
New users can test the chat feature on a 2-week demo with $30,000 of virtual money in the stock market.
EASY FOR BEGINNERS TO GET STARTED
Pasiv's chat function makes it easy for beginners to get started with investing in stocks. Have a question about the stock market? Simply ask for it in the chat. "What is a dividend?". Want to buy a company's shares? Type "Buy 2 shares of...". Not sure how to buy your first share? Just ask! "How do I buy my first share?". Pasiv will execute trades for you in the chat and respond with financial data when you ask for it.
BANK-GRADE SECURITY
Security is the highest priority for us when it comes to safeguarding your account & funds. All trades & withdrawals in Pasiv are encrypted to 256-Bit and require One-Time Password (OTP) authentication. Also, your funds are insured by our affiliate ChoiceTrade, a member of Securities Investor Protection Corporation (SIPC) which protects securities of its customers up to $500,000. Your shares & available cash are held by a regulated custodian at all times.
PROFESSIONAL SERVICE
Get hold of live customer support pre-market and during market hours via our support page www.pasiv.ae/support.html. We built Pasiv for you and we are always here to help or listen. Pasiv Financial Ltd is a licensed DIFC (Dubai Intl Financial Centre) company & financial services firm regulated by the DFSA (Dubai Financial Services Authority).
SUBSCRIPTION DETAILS
1. Subscription Service : A.I. Wealth Chatbot
2. Subscription Cycle : Monthly
3. Trial : 14 days free
4. Renewal : Automatic at the end of the subscription period unless the account is closed. You can cancel your subscription from the account screen.
5. Account Upgrade : Once a user purchases a subscription or applies for a real account they forfeit the remainder of their trial.
6. Privacy Policy & Terms of Service : www.pasiv.ae/disclosures.html
To open a real account in Pasiv, you need an invitation code. We're giving these out slowly based on user restrictions on our license at this time. Hang in there we'll get to you soon!
We are thrilled that the public can finally get their hands on Pasiv and test out our base A.I., mainly because our A.I.'s real learning begins here as well.
DISCLOSURES
Pasiv is regulated by the DFSA under the "Innovation Testing License" framework. Pasiv is only available to UAE residents 18+ at this time and is subject to account approval. US securities & financial products by ChoiceTrade Inc. regulated by FINRA. No content in the Pasiv app shall be considered financial advice, a recommendation, or solicitation for the purchase or sale of securities or other investment products. All information and data from the Pasiv app are for reference only. Pasiv can provide a day trading/margin account upon request, and active margin accounts will attract commission fees. All investments involve risk, including the potential loss of principal. Some factors, such as system response, liquidity, and account access times are affected by external market factors. Investors should consider their objectives and risks carefully before investing in online trading in UAE. For a complete explanation of disclosures, conditions, restrictions, fees, and limitations visit www.pasiv.ae